Past Recipients
The MLTAWA Hilde Dixon Award reflects the values exemplified by Hilde during her teaching career and was first presented to Fulvia Valvasori (Italian) in 2006. Consecutively this prestigious award has been bestowed on Lesley MacPherson (French) in 2007, Angela Signorile (Italian) 2008, Noburo Hagiwara (Japanese) 2009, Claire Leong (French) 2010, Susette Rose (Japanese) 2011, Anita Chong (Chinese) 2012, Kate Reitzenstein (Indonesian) 2013, Esther Blood (Italian) 2014, and jointly to Bianca Petale (Italian) and Jieqi Zhang (Chinese) in 2015.
More About the 2016 Recipient
The MLTAWA congratulates Helen Kuehs as the recipient of the Hilde Dixon Award for 2016. When the winner was announced, Helen was on scholarship participating in an intensive four week language course at the Goethe Institute in Hamburg. Teachers of German of Western Australia (TAGWA) Vice President, Tanja Colgan, accepted the award on her behalf at the MLTAWA Annual General Meeting on 19 November 2016.
Helen's work teaching School Kitchen Gardens and sustainability concepts through the Content and Language Integrated Learning approach has received state and national acclaim in the form of feedback from teachers after state and national conference presentations. She is actively collaborating with new schools such as Tuart Rise Primary School and Baldivis Gardens, which are implementing German programs and is sharing her expertise with the principals concerned and supporting the teachers by networking and sharing resources. Helen embraced the idea from a colleague of a German Language Round Table and was proactive in networking to make it a reality. She is now working closely with members of the German Language Round Table to promote the uptake of the German language in schools. Her services to Languages education is extensive and includes:
President of TAGWA (2014-present)
Vice President of MLTAWA (2015-present)
Network of Australian Teachers of German (NATG), Western Australian representative
Member of the Ministerial Advisory Group on Community Languages for the Office of Multicultural Interests
Member of the State School Teachers Union: active in fighting for the Languages Learning Area and working conditions for languages teacher
Select participant in the Key Language Leaders Initiative by the Department of Education
Member of the Languages in the Mainstream Working Party
Awardee of an Endeavour Language Teacher Fellowship to study in Düsseldorf
Trainer of the AFMLTA Ready! Set! Go! and the Ready! Set! Plan! series of professional learning events in 2014 and 2015
Scholarships for Australian-German Student Exchange (SAGSE) Committee Member
Contributor for the Teacher Development School, School for Isolated and Distance Education, in preparing modules for the teacher development for the new Western Australian Languages Curriculum
Member of the One World Centre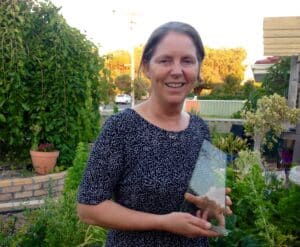 MLTAWA membership offers the chance to nominate or be nominated for this award.
Click to submit a nomination for the 2017 Hilde Dixon Award
Members must be logged-in to access the nomination page.