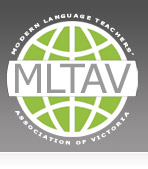 The MLTAV is the Modern Language Teachers Association of Victoria. With an election coming up, they are lobbying the government to make a firm commitment to Languages learning and teaching.
They have created a position paper that can be accessed at this link: http://www.mltav.asn.au
From the MLTAV website:
BACKGROUND
The Australian Curriculum, Assessment and Reporting Authority (ACARA) is responsible for developing the Australian Curriculum, whilst implementation decisions rest with individual States and Territories. To date the Victorian government has made no commitment to implementing the Australian Curriculum for Languages, a situation which is of very serious concern to the MLTAV.
PURPOSES OF THE MLTAV POSITION PAPER, March 2014
The MLTAV hopes to promote discussion of current issues amongst Languages professionals, particularly around the implementation of the Australian Curriculum for Languages in Victoria.
In the lead-up to the Victorian election this year, the MLTAV urges its members to lobby their local politicians regarding a timely decision/future commitment by the Victorian government with regard to implementation. We hope that the Position Paper will assist you in this process.
The MLTAV 2014 Annual Conference 'A Vote for Languages' will include a panel discussion with politicians who will be asked, amongst other matters, to outline their party's commitment to the implementation of the Australian Curriculum for Languages in Victoria. The Discussion Paper will be sent with the invitation to the major political parties to take part in the conference panel discussion.