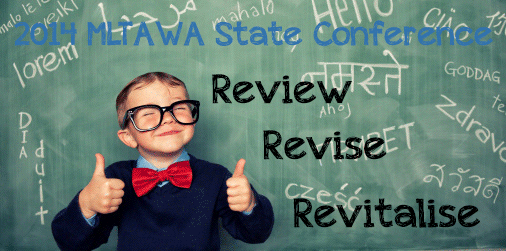 The MLTAWA invites educators, teachers, school leaders, researchers and curriculum writers to present a workshop or paper that is suited to our conference theme of "Review, Revise, Revitalise". If you are interested, please fill in the form and submit by 4pm Friday 08 August, 2014.
All sessions will be 50 minutes in duration. The MLTAWA will confirm acceptance of submissions by 08 August, 2014. Decision to accept will be based on demand for topics and diversity of presentations for the day.
Email [email protected] with any enquiries or for further information.
We sincerely thank applicants in advance! Sharing experiences, ideas, and practice is core business for the MLTAWA.
Click here for more information, to apply to present, and/or to register for the conference