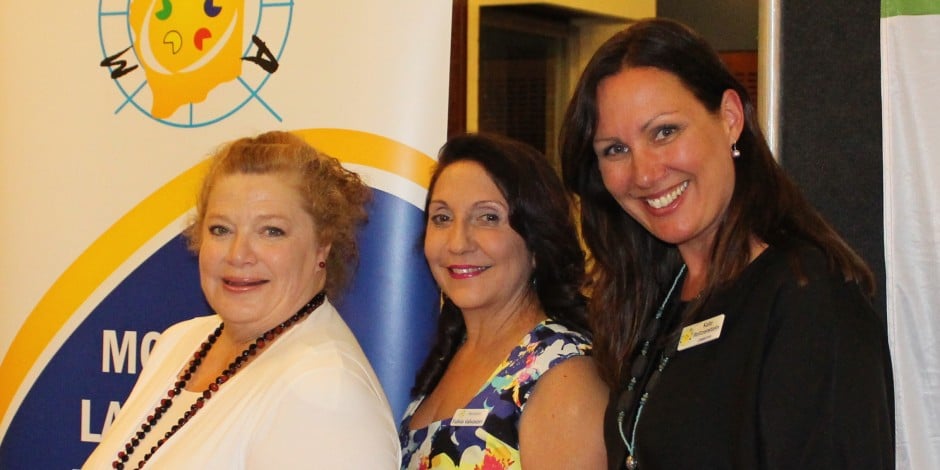 The MLTAWA 2015 Annual General Meeting was held on 20 November at Sandover Hall at Christ Church Grammar School where we celebrated the year's highlights, acknowledged excellence in our field and engaged in valuable networking across languages.
Our guest speaker, the Hon. Sue Ellery MLC gave a frank account of the state and nature of Languages education in Western Australia, stating these were "challenging times" and acknowledging the "dramatic drop in enrolments". Ms Ellery cited new funding models and the issue of the specific language curricula not being linked from K-12 as major factors for the declining enrolments. "Western Australia has the second highest unemployment rate in Australia" she said, but also added "We need to diversify our economy and Languages education has a role to play". She concluded by asking the MLTAWA for input into what a decent Languages policy should look like. The MLTAWA appreciate her valuable contribution to the evening and support shown for the association.
We also voted in the MLTAWA Committee for 2016:
President: Kate Reitzenstein
Immediate Past President: Fulvia Valvasori
Vice-President: Helen Kuehs
Secretary: Mariel Howard
General Committee Members: Alda Costa, Claire Leong, Penny Coutas, Lynne Rockliff and Nicky Griffin-Appadoo.
We still have not filled the position of Treasurer, however our Constitution allows us to create a casual vacancy "to be filled from within the Committee, and other vacancies filled by cooperation of any financial member" (Section 7.4).   This means for 2016, the Treasurer's role will be a casual position and is open to any interested MLTAWA member. Please contact Kate Reitzenstein at [email protected] or any of the newly elected Committee as soon as possible if you wish to take on such a role.
One of the announcements made at the AGM was the introduction of the MLTAWA Principal's Award, an initiative of outgoing President, Fulvia Valvasori, and which values the important role that principals play in advocating for Languages. More information about this award, will soon be posted on our website.
Congratulations to the Hilde Dixon Award winners for 2015, Bianca Petale and Jieqi Zhang, and to nominee, Mariel Howard. A very big thank you to exiting Treasurer, Alessandra Hardwick, and Secretary, Terry Daley, for their hard work and dedication to these roles. Finally a very big thank you and congratulations to exiting President, Fulvia Valvasori, who received an Honorary Lifetime Membership for her tireless work as President since 2006 and role on the Committee since 2000. Fulvia now assumes the role of Immediate Past President during 2016 and will be continue to be a valuable member of the Committee.