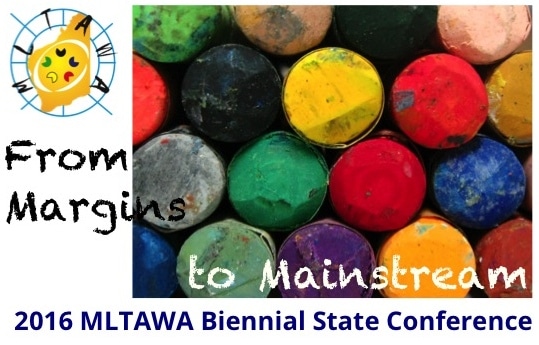 Friday 19 and Saturday 20 August, The Tradewinds Hotel, Fremantle (Registrations close 11 August)
The #MLTAWA16 Biennial State Conference theme From Margins to Mainstream is a signal to change and contests the monolingual mindset that has kept languages education in Australia on the margins for too long. The conference provides a forum for advocacy for Languages and awareness raising of new directives, new curriculum and alternative approaches to teaching and learning. Our challenge is for 'the mainstream' to perceive language learning as an essential part of education in Australia and understanding of the crucial role it plays role in literacy development and intercultural skills.
The conference encourages the sharing of ideas, research and best practice. There will also be scope for exploring the implications of past, present and future policies.
Conference themes include:
Leading and transforming languages programs
Student diversity and multilingualism
Effective pedagogies for language learning
Planning for and implementation of P-10 Western Australian Curriculum: Languages
Promoting and advocating for Languages
Draft conference programme
Venue Information
Register now!
Overview
The Minister for Education, Honorable Peter Collier, MLA will officially open the Conference at 9am on 19 August 2016 at The Tradewinds Hotel.
Day 1 (19 August) includes an opening keynote address by Dr Joseph Lo Bianco, three consecutive concurrent sessions offering a wide variety of workshops, presentations and seminars. The day will conclude with a panel discussion including the Conference keynote speakers, the Shadow Minister for Education, Sue Ellery and other invited guests.  The panel discussion will explore the Conference theme "From Margins to Mainstream: Warum? Siapa? Que? Où? Dō yatte? Quando?..".
The Conference Dinner (optional) will be held at Limones Restaurant, 77 George Street, East Fremantle.
Day 2 (20 August) will commence with the inaugural Nick Norris Memorial Lecture on Leadership in Languages, announcement of the winner of the inaugural MLTAWA Principal's Award, and three consecutive concurrent sessions offering a wide variety of workshops, presentations and seminars. The day will conclude with the closing keynote address by Steve Collis.
Keynote Speakers
Dr Joseph Lo Bianco is Professor of Language and Literacy Education, in the Melbourne Graduate School of Education. He is Past President, Australian Academy of the Humanities. His current academic research and policy activities include:

UNICEF Research Director, Language, Education and Social Cohesion, Malaysia, Myanmar/Burma and Thailand; and Preparation of Peace Building National Language Policy, Myanmar;
Academic advisor, National Research Centre for Foreign Language Education at Beijing Foreign Studies University;
Research advisor for LUCIDE, an EC project on Languages in Urban Communities, completing in 2014 a 4 years research project on multilingualism at the municipal level in 12 European cities;
Immediate Past and Inaugural President of the Tsinghua Asia Pacific Forum on Translation and Intercultural Studies;
130 publication on language, policy and planning, language educations, literacy, culture and identity.
In press are Aldo and the Meridian Line, a novel n the Mountain of Su Dongpo series, (with T. Hay and Y. Wang) and a volume on Langauge and Identity in Post-Revolutionary Tunisia (with Fethi Hall).

Steve Collis joined Northen Beaches Christian School (NBCS) in 2002 teaching English and French, and quickly attracted recognition in awards for 'Excellence by a Teacher' (National Quality Schools Awards) and 'Microsoft Innovative Teacher of the Year'. He joined the NBCS leadership team soon after, promoting innovation school-wide, and delivering training programs and workshops at schools around Australia and beyond. Steve helps colleagues re-envision virtual and physical spaces to facilitate personalised learning and increased student engagement and agency.
Gary Martin is Emeritus Professor and commenced as CEO and Executive Director of AIM WA at the beginning of 2012. Prior to his appointment to AIM WA, Gary held several executive level appointments at Murdoch University in Western Australia, including Executive Dean, Pro Vice Chancellor, Deputy Vice Chancellor and Vice Chancellor, the most recent of which was that of Senior Deputy Vice Chancellor. Gary is a learning and development specialist with expertise in adult learning development and he has a particular interest in action learning and mentoring as management and leadership development strategies. He has had extensive experience in the design and delivery of learning and development programs in Western Australia and internationally, with both government and non-government clients. He is currently Chair of Telethon Speech and Hearing in Perth, Western Australia, and is a former Chair of Study Perth (2008-2011). Gary was made a Fellow of the Australian College of Educators in 2015, and is currently an Emeritus Professor of Murdoch University's School of Management and Governance, and Zhejiang University of Technology (Zhejiang Province, China), as well as an Honorary Professor at Guangdong University of Business Studies (Guangdong Province, China). Professor Martin will deliver the Inaugural Nick Norris Memorial Lecture on Leadership at the MLTAWA Biennial Conference (Saturday).
Draft conference programmeVenue InformationRegister now!
Registration Fees
 2 days
| | | |
| --- | --- | --- |
|   | MLTAWA members* | Non-members |
| Early bird (until 22 July) | $240 | $325 |
| Standard rate | $290 | $375 |
1 day
| | | |
| --- | --- | --- |
|   | MLTAWA members* | Non-members |
| Early bird (until 22 July) | $150 | $235 |
| Standard rate | $175 | $260 |
*Includes MLTA members from other states.
Conference dinner
Conference registration terms and conditions: http://mltawa.asn.au/2016-conference/terms-and-conditions/