Mr Tim Bamber, Principal of Oberthur Primary School (OPS) is the winner of the 2016 MLTAWA Principal's Award. This  award consisting of a trophy, a certificate and $400 towards the Oberthur Primary School Chinese program was presented to Mr Bamber at the Biennial State Conference on 20 August.  This inaugural award acknowledges school leaders who have shown long-term commitment to their Languages program and promoted Languages within the wider school community.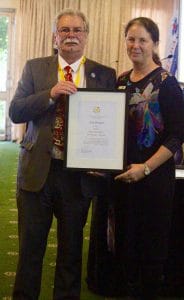 Oberthur Primary School is the first and only school in Western Australia to offer a Chinese language immersion program. This is result of many years of planning and researching. Mr Bamber and his administration team looked at some immersion models in Victoria schools and paid several visits in 2011 and 2014 to some selected schools in Melbourne that had been running successful language bilingual/immersion programs. Based on the learnings from the visits, OPS started a self funded Chinese Immersion Program from pre-primary in 2013 and has planned to progressively extend the program each year from PP (2013) to Year 6 (2019). Such an immersion program is in addition to the school's Chinese second language program, which has doubled the delivery time in the past few years and offers an extension program for background Chinese students.
Tim is a self-confessed 'outsider' to Languages, having struggled as a learner and been a humble admirer of talented language learners. Yet he has gone out of his way to research and understand what makes a successful language program to inform decision making.
"I believe that the students of today are the leaders of tomorrow and they will be better leaders if they value languages and the cultures carried in them. I believe that all staff in our schools should value languages learning and strive to understand the benefits and contribution to general achievement. I believe that language learning helps develop understanding across the world." Tim Bamber.
The MLTAWA congratulates Mr Tim Bamber on his outstanding achievement and also acknowledges and congratulates the five other finalists for the the MLTAWA Principal's Award for 2016.
Read more about the award via this link