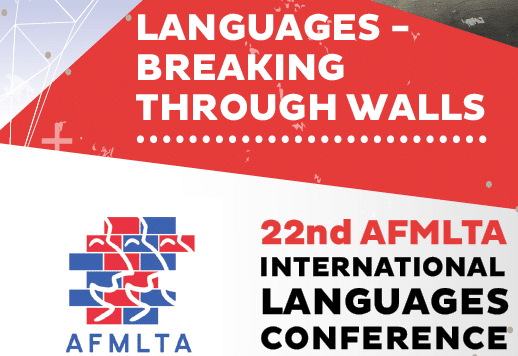 The MLTAWA is offering four $1000 grants to current members to attend the upcoming 22nd AFMLTA International Languages Conference in Hobart, 7-9 July, 2019. This year's Conference theme is "Languages – Breaking Through Walls". For more information about the conference, see https://www.afmlta.asn.au/content/2019-afmlta-conference 
There are four grant categories that members can apply for. One winner will be assigned to each category:
a) Presenter (chosen on merit): Applicants must have submitted a presentation/paper proposal to the AFMLTA and include the title and blurb on the MLTAWA grant application. The MLTAWA Committee will select a presentation on merit and only those successfully accepted by the AFMLTA will be considered.
b) New Graduate (drawn): Applicants can be current university students and/or be in their first or second year of teaching in 2019.
c) First Timer (drawn): Applicants must have not attended a previous AFMLTA National Conference.
d) Open: Applicants do not qualify for the Presenter and/or the New Graduate and/or the First Timer categories.
MLTAWA members, if eligible, can apply for more than one category.
Conditions include that the awardee must:
be self-funded, not by their school or organisation and can use the scholarship to subsidise the costs of registration, transport and accommodation;
attend the full three day program of the conference;
submit a 500 word (minimum) written report about their experience at the conference, an account of the sessions they attended and what key ideas they took away from the forum. This report will be published on the MLTAWA website and Single Language Association publication (if applicable) for the benefit of members who were unable to attend;
supply a biography and photo of self and agree to its publication on the MLTAWA website.
If you would like to apply for this grant, complete the online application form before Friday 3 May, 2019. The MLTAWA Committee will review all applications and those deemed eligible will go into a draw.  The successful applicants (awardees) will be notified by Monday 12 May, 2019.