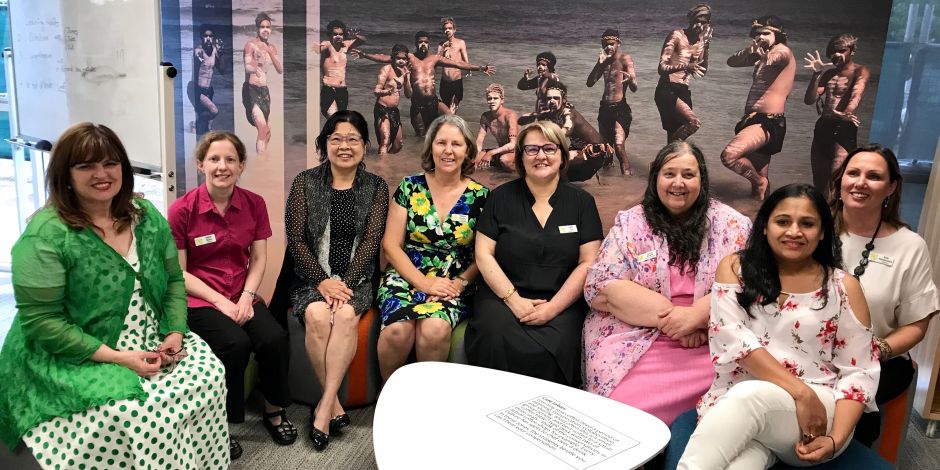 The MLTAWA 2017 Annual General Meeting was held on 15 November at Wesley College in the new Language Centre, 'Wanjoo Mia' where we celebrated the year's highlights, acknowledged excellence in our field and got a glimpse of what Languages education of the future looks like.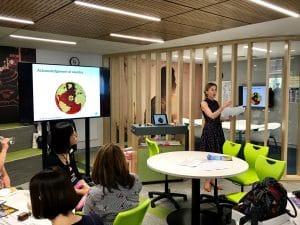 Many thanks to Claire Leong, Head of Languages at Wesley College who gave a welcome and guided us through the new building, which is purpose built for to foster a plurilingual environment and communication beyond the classroom. Claire explained that the learning space is borderless. It is "one space: many zones = connections and autonomy". The radical departure from a four walled conventional classroom has been exciting yet not without its challenges, requiring a new pedagogical shift and culture of working together. Members who attended the AGM were in awe of the possibilities and opportunities that such a new space has on learning.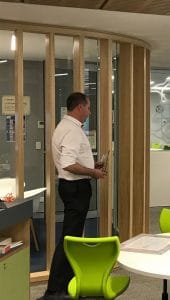 We then announced and congratulated this year's Hilde Dixon Award winner, Nathan Harvey. Nadia Civa presented the award and read the citation (below) and upon accepting the award Nathan shared his memories of having trained with Hilde and the moving advice she gave to him is his early years of teaching.
"Nathan truly embodies the commitment, fairness and passion for languages and students associated with Hilde Dixon, whom this award honours. He is widely recognised as an excellent teacher who stands by his passionate belief that all students can and should be successful in languages and, as an exemplary leader and motivator who believes that enhancing teacher practice is the key vehicle in improving student results. Nathan is a strong advocate of professional associations/networks and of the ongoing support these provide to teachers, to this end he facilitated Willetton Senior High School's successful application to become a Teacher Development School for Languages and he assists professional associations by offering his school as a venue for professional learning and by frequently presenting to teachers."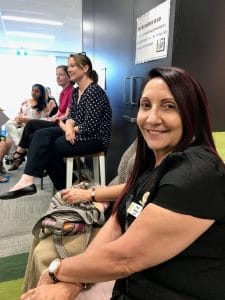 2017 also marked 23 years of service of Fulvia Valvasori to the MLTAWA Committee. As one of only four Honorary Life Members, Fulvia has been a member for 27 years, served 23 years on the Committee: 9 years as a general committee member, 4 years as Vice President, 9 years as President and 1 year as Immediate Past President. So much of what you see and know of the MLTAWA of today was initiated by Fulvia during that time: the branding and logos, the Sundowners, and the Principal's Award. In 2006, Fulvia was the Inaugural Hilde Dixon Winner and took on the President role in 2007. During her time as President, Fulvia was also on the AMLTA Executive as Promotions Officer and learnt a lot from the AFMLTA and brought improvements to the MLTAWA as a result. She created constitutional changes in 2011 and initiated the new structure of the Executive and initiated the Working Rules which now guides our operations. Her work was recognised by a PTCWA Award for the MLTAWA in 2012 and an AFMLTA Recognition of Service, Certificate of Merit in 2015. This was presented to Fulvia at the National Conference in Melbourne. Fulvia was conferred as an Honorary Life Member of the MLTAWA in recognition of her service when she stepped down from the role of President in 2015. Fulvia's greatest achievement and mark on the Association has been the strengthening of ties between the Single Language Associations and the MLTAWA. She did that through the establishment of grants to attend state and national conference and professional learning and the role of the MLTAWA as an umbrella organisation was reinforced. At the AGM we congratulated and thanked Fulvia for her service as she steps down from the Committee in 2018.
We also voted in the MLTAWA Committee for 2018:
President: Nadia Civa
Immediate Past President: Kate Reitzenstein
Vice-President: Helen Kuehs
Secretary: Mariel Howard
General Committee Members: Lynne Rockliff, Esther Blood, Rashmi Loyalka, Wang Yi and Nicky Griffin-Appadoo.
We still have not filled the position of Treasurer, however our Constitution allows us to create a casual vacancy "to be filled from within the Committee, and other vacancies filled by cooperation of any financial member" (Section 7.4).   This means for 2018, the Treasurer's role will be a casual position and is open to any interested MLTAWA member. Please contact Nadia Civa at [email protected] or any of the newly elected Committee as soon as possible if you wish to take on such a role.
I would like to congratulate Nadia Civa for being nominated as President for the next two years and welcome newcomer Wang Yi to the Committee. I have really enjoyed the last two years as President and very proud of our achievements (you can read the 2017 President's Report here), particularly the two major projects we ran this year: Languages in the Mainstream (and revival of WA Languages Week) and Walk the Talk. My deepest thanks to individuals of the hardworking MLTAWA Committee and Languages in the Mainstream Working Party, who contributed 1000s of volunteer hours and dedicated their passion and energy towards the profession.