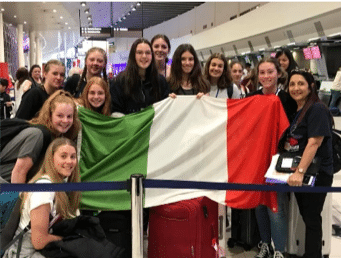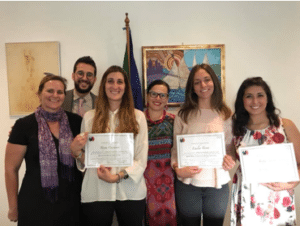 Since our AGM in February, it has been all systems go at WAATI. We have many new committee members and welcome their individual expertise and talents to our committee. We look forward to a fantastic year ahead teaching Italian language and culture.
Our assistenti program continues to grow. We have added another new university, Università degli studi di Urbino 'Carlo Bo'. We now have a total of five universities in the program. We are very grateful to Stefano Rotelli for driving this program for so many years and he has now handed the baton to Laura Bava. Laura is very enthusiastic about the program and we will continue to see it thrive under her leadership. The photo shows the three assistenti from Term 1 being farewelled at the Italian Consulate by Consul, David Balloni, WAATI President, Eliza Knapman, and WAATI Assistenti Coordinator, Laura Bava.
Our biggest program continues to be the student exchange with 52 Italian students arriving in late June for a two month stay here in Perth and Canberra. These students will be hosted by local families. In January, we welcomed back the 48 students from Western Australia and Canberra from their two month stay throughout Italy. This program is a wonderful opportunity for not only linguistic ability but is also a cultural exchange. It is certainly a life changing experience for those involved. We are grateful to Fulvia Valvasori and the teachers who give up their time so their students can have this opportunity. As teachers we can certainly see the difference this experience crfeates for our students. The photo is of Fulvia and a number of the Aussie kids that went on exchange for 2017-18.
At the moment, we are very busy organising our biannual WAATI conference. This will be held at the Joondalup Resort on June 24-25. The Friday evening will consist of a formal dinner with keynote speaker and the Saturday will consist of various professional learning opportunities The sub-committee ably led by conference convener, Fulvia Valvasori, has many interesting things in the pipeline and this is sure to be a fabulous event. At the conference the Exemplary Teacher of Italian Award for 2017 will be presented. We look forward to this fantastic PL opportunity for teachers of Italian here in Western Australia.