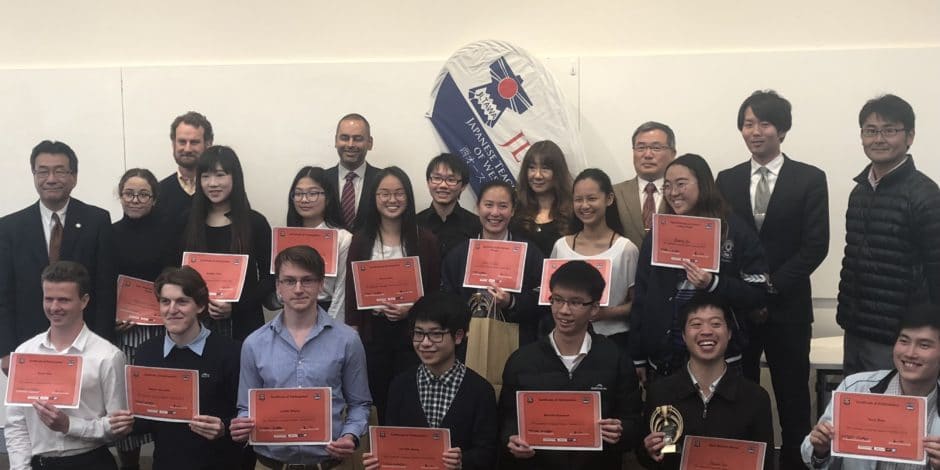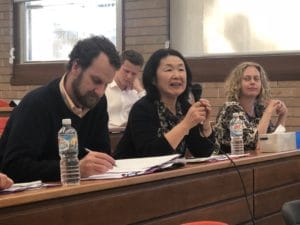 Events in 2018/2019
Annual Conference
March 2018 Annual Conference was held at Mount Lawley SHS at a cost of $90/attendee.  Committee and presenters attended at no cost.  It had 77 attendees and 11 presenters, including Nadia Civa on 'Connections', promoting the MLTAWA to our members.  Conference was opened by the Consul-General of Japan in Perth.  Guest presenter was Jan Chalmers, a well-known Primary teacher in Victoria who creates considerable amount of resources.  Other sessions were:
What's new in Japan (Japan Foundation Sydney)
Developing a unit of work (Jan Chalmers)
Preparing for WAC in secondary (Sarah Burrows & Nathan Harvey)
Creating assessments with large numbers of students
Inquiry Based learning in Primary
Tips and preparation for WACE oral exams (Kumiko Sue)
Virtual Reality in the Classroom (Richard Meagher)
Teddy Bear Project (Naoko Kimata)
Intext – New Resources (Jillian Symons)
A networking session followed the AGM.
Hyogo Teachers Welcome Party
On May 31st a social and networking event was held to welcome the Exchange Teachers from Hyogo, held at the Hyogo Prefectural Government Cultural Centre.  It was attended by ??  members of JLTAWA and the community.
WA Japanese Language Speech Contest 2018
Will be held on Saturday 25th August, in conjunction with University of Western Australia.  Seven students will be competing in the High School Division from five difference schools.  Winner will attend the National Contest in October in Sydney.
Last year the national contest was won by the West Australian winner.
Kaiwa Day
Kaiwa Day is a day for Year 12 students of JLTAWA members to prepare for WACE oral exam. Currently we have ?? students registered and ?? teachers.  This is held for a cost of $10/student to cover costs of afternoon tea and a teacher's 'debrief' held at the Burrendah Tavern afterwards.
Sundowner/Teacher of the Year Award
A Sundowner will be held at Hyogo PGCC on November 23rd to announce the JLTAWA Teacher of Year Award'.  This award is sponsored by Hyogo PGCC.
Foreign Minister's Commendation
On July 17th JLTAWA was announced as the recipient of the Japanese Foreign Minister's Commendations.  This is awarded to individuals or groups in recognition of exceptional and distinguished services in the promotion of mutual understanding between Japan and Australia.
Here is the link to the announcement:
http://www.perth.au.emb-japan.go.jp/en/top_whatsnew/17_07_2018FMCommendation.html
The Commendation will be awarded at a reception at the Consul-General's house in the near future.
WAC PD
There are plans to continue to deliver the WAC for Japanese to teachers through JLTAWA PD's in the future.
NAJLTA
Rosanne is a member of NAJLTA (National Alliance of Japanese Language Teacher Associations).  It is made up of the presidents from each state for Japanese Language teaching.
NSJLE (National Symposium of Japanese Language Education)
Rosanne will attend the NSJLE in Sydney in November to get ideas for future presentations for JLTAWA's conference in 2019.  JLTAWA is also sponsoring two $800 grants for JLTAWA member presenters and three $400 grants for JLTAWA to attend the Symposium.
Principals Tour 2019
JLTAWA nominated two principals to JNTO to participate in a tour of Japan in February 2019.  One Primary (West Greenwood PS) and one Secondary (Mt Lawley SHS) principal was nominated.  These principals were chosen by the committee based on their 'sphere of influence' in the promotion of the teaching of Japanese language through WA.
Calligraphy Competition
A Calligraphy Competition is open to JLTAWA members' students.  Entries close on August 31st.  All submitted entries win a fude pen (brush pen) and the winners receive a iTunes voucher for each year division form PP-10.
JLTAWA Committee 2018-19
| | | |
| --- | --- | --- |
| Rosanne Jacobs | President | Mater Dei College |
| Melissa Luyke | Vice-President | Hyogo Government Cultural Centre |
| Fiona Blair | Secretary | Mosman Park PS |
| Margo Whittle | Treasurer | Yuluma PS/St Hilda's AC |
| Kyohei Futaki | CAC Representative | Kolbe CC |
| Terrena Hall | Primary Representative | Riverton PS |
| Sarah Burrows | Website Advisor | Belmont CC |
| Jaeik Jeong | Committee Member | Mt Lawley SHS |
| Margaret Kennedy | Committee Member | Hillarys PS |
| Terri Ingleton | Committee Member | N/A |
| Rachel Ong | Committee Member | West Greenwood Primary School |
| Briellen Anthony | Committee Member | Perth Waldorf School |
| Anne Becker | Committee Member | SIDE |