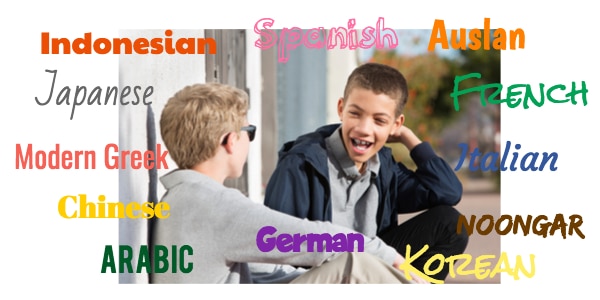 At the MLTAWA Awards event, held on Monday, 28 October 2019 at Rossmoyne Senior High School, the winners of this year's Side by Side competition for second language learners were announced. The event was attended by more than 160 – finalists and their families, teachers, principals and a number of special invited guests. The audience was addressed by Milanna Heberle, Principal Rossmoyne Senior High School and the Honorable Pierre Yang MLC, Member for the South Metropolitan Region (representing the Minister for Education and Training, the Honorable Sue Ellery).
The winners…
AUSTRALIAN ISLAMIC COLLEGE (Dianella)
Arabic Year 7 – Year 8: Afila Aarif and Sahro Hussein
Arabic Year 9 – Year 10: Deka Gure and Addna Dahir

METHODIST LADIES' COLLEGE
Chinese PP-Year 2: Patsy Allen and Amberley Brown

PRESBYTERIAN LADIES' COLLEGE
Chinese Year 5 – Year 6: Emma Ryan and Livya Siford
Chinese Year 7 – Year 8: Natalie Row and Charlotte Gishubl

ROSALIE PRIMARY SCHOOL
French Year 3 – Year 4: Zoe Williamson and Zoya Fatima
French Year 5 – Year 6: Sophie Fitzgerald & Amanda Erftemeijer

ST STEPHENS SCHOOL
French Year 7 – Year 8: Amber Mansfield and Jordane Sharafizad

WESLEY COLLEGE
French Year 9 – Year 10: Jakob Dorst and Alex Soudure
TUART RISE PRIMARY SCHOOL
German PP-Year 2: Ciaran Murphy and Emmanuel Songolo

BALDIVIS PRIMARY SCHOOL
German Year 3 – Year 4: Maria Janda and Lucy Astell
German Year 5 – Year 6: Stella Ojuk and Paige Owen

ROSSMOYNE SENIOR HIGH SCHOOL
German Year 7 – Year 8: Arina Levkovskaya and Chelsea Satriavi

ST PETERS PRIMARY SCHOOL
Indonesian PP-Year 2: Riley Southern and Khianna Cresdee

TRANBY COLLEGE
Indonesian Year 7 – Year 8: Delany Scott and Allyse Bell

MARY'S MOUNT PRIMARY SCHOOL
Italian PP-Year 2 : Noah Bailiff and Callum Sanderson
NORTHAM PRIMARY SCHOOL
Italian Year 3 – Year 4: Dakota Browning and Akshi Jayakumar
Italian Year 5 – Year 6: Aldrei Rico and Benjamin Lance
SAINT BRIGID'S COLLEGE
Italian Year 7 – Year 8: Danielle Rossi and Emma Wallace
Italian Year 9 – Year 10: Rachel Whittington and Isobel Staltari

SWAN CHRISTIAN COLLEGE
Japanese Year 7 – Year 8: Samantha McKinley & Christina Moulds
Japanese Year 9 – Year 10: Byron Howard and Thomas Hurst

MARGARET RIVER SENIOR HIGH SCHOOL
Spanish Year 7 – Year 8: Samuel Bower and Indigo Travaglini
View some of talented linguists here.