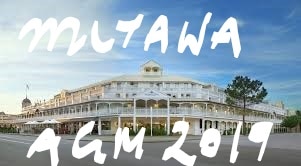 Join us on Saturday, 23 November for a Member Breakfast and the 2019 MLTAWA AGM in the Rottnest Room at the Esplanade Hotel Fremantle (from 8:30 to 10:45). This is the most important event on the MLTAWA calendar as it is when we elect a new Committee for 2020 and announce the winner of the 2020 Hilde Dixon Award.

All members are strongly urged to consider joining the Committee and have a role in the governing body of the MLTAWA. Eight positions (all except the President's, and Immediate-Past President's, position) will be open and role descriptors are available via this link. Please do not hesitate to contact any of the current committee members for advice and insight into the roles and responsibilities. Nomination form available here.

The cost for breakfast is $15 (subsidised by the MLTAWA) and includes tea/coffee and hot breakfast. (Non-members may attend on request to [email protected] at a cost of $30)
Please BYO name badge!
Registrations close on 18 November at 8pm.
Program for the morning
Breakfast Menu
Coffee / tea for the duration
Hot breakfast – Scrambled eggs, spinach, grilled bacon, slow roasted roma tomato, toasted panini
(Gluten free and vegetarian options (no bacon) are available. Please nominate your dietary preferences upon registration.)
Come and support the 2019 Hilde Dixon Award nominees…
Bonnie Woo
Tanja Colgan
Erin Pavy
Cancellation Policy
Cancellations for the breakfast received in writing to [email protected] , received before 15 November, 2019 will be considered on a case by case basis.
Due to catering booking requirements, no cancellations will be considered after 16 November 2019. If you need to cancel after this date, you are advised to find a substitute delegate such as a colleague and are requested to notify the MLTAWA via [email protected] of the change.
Disclaimer
The MLTAWA reserves the right to make changes to the Breakfast & AGM program.
The MLTAWA does not accept liability for damages or loss by persons in any way association with the Breakfast & AGM event.
Privacy
Photographs of participants will be taken throughout the Breakfast & AGM. If you do not wish to have a photo of yourself published on the MLTAWA website and for future public use, please sign the column "No Photo" at the registration table on arrival, and ensure that a red sticker is displayed on your name badge.
Make sure you are logged-in to register.