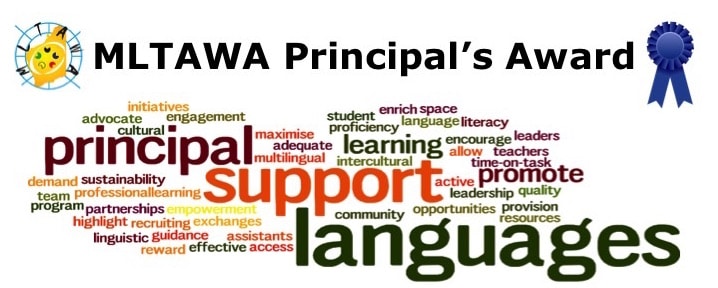 This award acknowledges mainstream and community language school leaders who have shown long-term commitment to their Languages program and promoted Languages within the wider school community. It consists of a certificate, a trophy and $400 to contribute towards the school's Languages program. The name and merits of the winner will be published on the MLTAWA website.
The details of the award, how to nominate and access to the nomination form are on the MLTAWA Principal's Award page.
Nominations are due Wednesday, 23 September 2020. The winner will be announced as part of the MLTAWA's 90th Anniversary celebrations on 28 November 2020.
Languages teachers are encouraged to nominate worthy principals. The invitation to nominate is also extended to all members of school staff and the wider community, including parents, students and members of affiliated organisations. The nomination must be made by two nominating people, one of whom must be a current financial member of MLTAWA. Their current membership will allow access to the members section of the MLTAWA website where they can access the online nomination form)