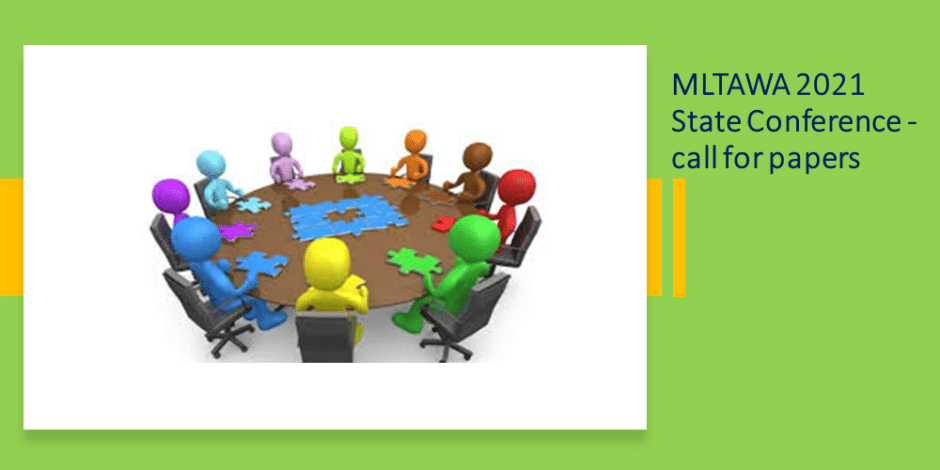 MLTAWA would like to encourage you to share your talent, skills, and knowledge at the MLTAWA State Conference 2021 with other members  and we look forward to receiving your abstracts.
Please note, the due date for the call for papers for the MLTAWA State Conference 2021 has been extended to 26 January 2021.
The conference will take place on Friday, 26 and Saturday, 27 March at the Esplanade Hotel in Fremantle. 
The title of the MLTAWA's State conference is Future Perfect? and will focus on how to engage students in language learning at a time of global change and challenge. Presentations and workshops pertaining to this theme are being sought.  Possible topics are:
·        The future language classroom
·        Engaging students in language learning in a world where exchanges and travel are limited
·        Global networking without travel
·        Using ICT to enhance language learning
·        The WAC:L (primary and secondary)
·        Integrating general capabilities into the language classroom
·        Developing resilience and wellbeing in students
·        Professional growth and wellbeing for teachers
The context and content, as far as possible, should be relevant and transferable to any language classroom in order to appeal to as many delegates as possible.
To apply to present at the conference, please use the attached form and include:
·        an abstract of no more than 250 words, and
·        a brief biography of yourself including your language(s), teaching context and experience
Nominate if your proposal is a workshop or a presentation and if you would anticipate requiring a 30 minute or 45 minute or 90 minute allocation.
Please email your form to Kate Williams at [email protected] by 26 January 2021. Any queries can also be addressed to this email. You will be notified of the acceptance of your paper early February.