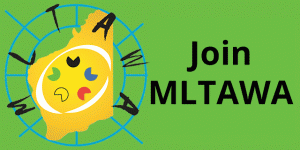 You are invited to become a member of MLTAWA. Membership is for one year from 31 March to 30 March.
New Members:
For new members joining at the beginning of the school year (from 01 February), we offer a bonus membership period: Membership will be valid until 31 March the following year.
Renewing Members:
Existing members can extend their membership at any time. One year will be added on to the existing membership that expires on 31 March. To renew existing membership, please login first and you'll find that a lot of the membership form is pre-filled, ready for you to update and amend as necessary.
Membership benefits:
Strong advocacy for the teaching and learning of languages in Western Australia
Representation at forums and symposiums in the wider education community at the national, state, and local levels
Membership of the Australian Federation of Modern Languages Teachers' Associations (AFMLTA), which represents languages and language teachers both nationally and internationally (AFMLTA is affiliated with FIPLV – Fédération Internationale des Professeurs de Langues Vivantes)
Members' rates for professional learning activities, including free workshops
Links to local, national and international networks of colleagues
Subscription to Babel, the journal of the AFMLTA, and the AFMLTA News in Brief
Access to the MLTAWA website, keeping you up-to-date with local languages events and developments and special members-only resources
Email updates on emerging trends and events in language education
Free social networking functions such as the famous MLTAWA Sundowner
A subsidised AGM function
Eligibility for the Hilde Dixon Award
Eligibility to nominate a school leader for the Principal's Award
PLEASE NOTE: Only financial members may nominate office bearers, stand for office, vote or list agenda items for consideration by the MLTAWA membership.