Past Recipients
The MLTAWA Hilde Dixon Award reflects the values exemplified by Hilde during her teaching career and was first presented to Fulvia Valvasori (Italian) in 2006. Consecutively this prestigious award has been bestowed on Lesley MacPherson (French) in 2007, Angela Signorile (Italian) 2008, Noburo Hagiwara (Japanese) 2009, Claire Leong (French) 2010, Susette Rose (Japanese) 2011, Anita Chong (Chinese) 2012, Kate Reitzenstein (Indonesian) 2013, Esther Blood (Italian) 2014. In 2015 the award was presented jointly to Bianca Petale (Italian) and Jieqi Zhang (Chinese) and in 2016 to Helen Kuehs (German).
More About the 2017 Recipient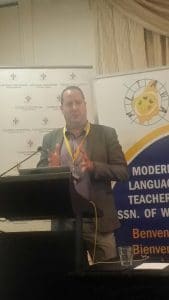 The MLTAWA congratulates Nathan Harvey as the recipient of the Hilde Dixon Award for 2017 presented at the MLTAWA Annual General Meeting on 15 November 2017.
Nathan truly embodies the commitment, fairness and passion for languages and students associated with Hilde Dixon, whom this award honours. He is widely recognised as an excellent teacher who stands by his passionate belief that all students can and should be successful in languages and, as an exemplary leader and motivator who believes that enhancing teacher practice is the key vehicle in improving student results. Nathan is a strong advocate of professional associations/networks and of the ongoing support these provide to teachers, to this end he facilitated Willetton Senior High School's successful application to become a Teacher Development School for Languages and he assists professional associations by offering his school as a venue for professional learning and by frequently presenting to teachers.
Nathan's service to Languages education is extensive and includes:
Head of Languages, Willetton Senior High School (2005 to present; in 2017 the languages team included 19 teaching staff and seven language assistants across French, Italian, Japanese, Korean and English as an Additional Language)
Executive member of the AFMLTA (from 2017)
Trainer of the AFMLTA Ready! Set! Assess! professional learning events (2017)
MLTAWA Executive committee member
Recipient of an Outstanding Service Award from the Professional Teaching Council of WA (2011)
West Australian state trainer for the AFMLTA's Professional Standards Project
Representative on the national Mentoring and Reflecting: Languages Educators and Professional Standards project
Leader to WA and Northern Territory aspirant leaders as part of the Australian Government NALSSP Strategic Collaboration and Partnership Fund Project
Board member for the Teacher Registration Board of WA
MLTAWA membership offers the chance to nominate or be nominated for this award.
Click to submit a nomination for the 2017 Hilde Dixon Award
Members must be logged-in to access the nomination page.