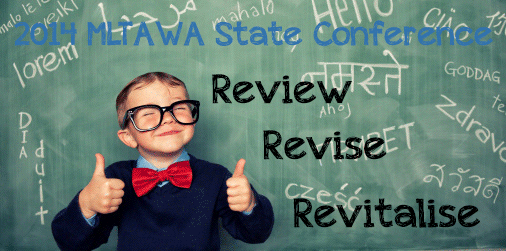 Join us for the MLTAWA Biennial State Conference!
Saturday 06 September 2014
The theme "Review, Revise, Revitalise" is designed to prompt participants to reflect on and evaluate past and present policies, practices, and approaches to Languages education and to dream for the future. Presentations and sessions will feature research on, strategies for, and models of best practice for engaging students and highlighting the excitement that comes from communicating in another language.
For more information (and to register) visit the Conference Page here
The conference proper will be followed by a Sundowner and Conference Dinner. MLTAWA members are invited to attend all three events, or any combination.