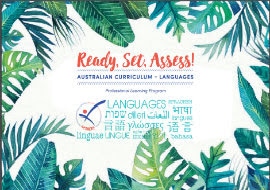 If you are teacher of Chinese, French, German, Indonesian, Italian or Japanese getting ready for implementation of the Western Australian Curriculum: Languages, this PL is for you! If you are a teacher of Arabic, Auslan, an Aboriginal Language, Hindi, Korean, Modern Greek, Spanish, Turkish or Vietnamese  getting ready for the Australian Curriculum, this PL is also for you!
The Australian Federation of Modern Language Teachers' Association (AFMLTA) is rolling out assessment workshops on a national scale, but with an application for a Western Australian context through the Willetton SHS TDS. The focus of Ready, Set Assess! is on:
– engaging with quality assessment practices
– analysing a range of assessment tasks and student work samples
– developing plans for own classroom assessment
– promoting teacher agency in working with Languages curriculum documents including the Western Australian Curriculum
Presenters are: Dr Anne-Marie Morgan, President AFMLTA and Nathan Harvey, Head of Languages, Willetton SHS.
Choose from 2 Program Options:
1 DAY WORKSHOP + ONLINE WEBINAR
– Ready? Set? Assess! Workshop (Saturday)
– Language specific webinar to engage in collegiate moderation conversations online
2 DAY WORKSHOPS + ONLINE WEBINAR
– Ready? Set? Go! and Ready? Set? Plan! (Friday)
A combination of the Professional Learning offered by AFMLTA in 2015 – 2016
Using the WA Curriculum: Languages    to plan for quality teaching and learning of Languages
– Ready? Set? Assess! Workshop (Saturday)
– Language specific webinar to engage in collegiate moderation conversations online
Register at afmlta.asn.au by October 12th to be part of this national Professional Learning. Enquiries:
[email protected]
Workshops
Friday 27 October
9am – 3.30pm
Saturday 28 October
9am – 3.30pm
Online webinar
Thursday 7 December
5pm
Where:
Willetton Senior High School
Pinetree Gully Rd
Willetton
Cost:
1 day workshop + webinar      $185/ MLTAWA member         $225/non-member
2 days workshops + webinar   $295/ MLTAWA member         $350/non-member
To become a MLTAWA member click here.
* Price includes GST and covers all catering and course materials
[gview file="http://mltawa.asn.au/wp-content/uploads/Ready-Set-Assess-WA.pdf"]