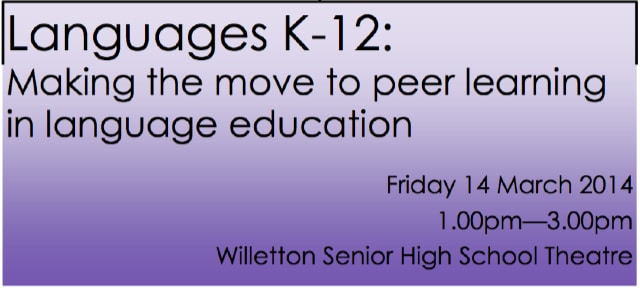 Friday 14 March 2014
1.00pm—3.00pm
Willetton Senior High School Theatre
This workshop is open to teachers of all languages and will be conducted simultaneously in Japanese and English by:
Professor Reiko IKEDA (Graduate School of Marine Science and Technology, Tokyo University of Marine Science and Technology) and  Dr Hyogyung KIM, Ph.D (Language Consultant, The Japan Foundation, Sydney)
Simultaneously interpreted by Dr Kyoko Kawasaki (Curtin University).
Department of Education staff must register through the online system of the Institute for Professional Learning (attached are instructions for those who need it). AISWA and CEO teachers must register by email to: [email protected]au.
Please note: This PD is not offered by (but is strongly supported by!) MLTAWA.
Information flyer:
[gview file="http://mltawa.asn.au/wp-content/uploads/chirashi-for-Fri-14th-March.pdf"]
Information on how to register:
[gview file="http://mltawa.asn.au/wp-content/uploads/Searching-and-registering-for-PL.pdf"]