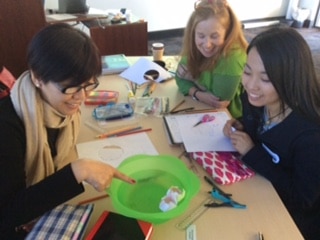 Participants in the MLTAWA CLIL workshop on 27 May were given a glimpse into the future of Languages learning with Nadine Fraize, ex-Head of Languages at Hale School, current director of Langue et Terre in France. The key words were CLIL, content and integration as we explored Languages learning in Scotland. The Scottish government realised that the country is losing half a billion dollars a year by having mainly monolingual citizens. As a consequence, they mandated two additional languages in primary school ("1+2 Policy"), and provided training and resources to enable regular classroom teachers to deliver curriculum content in additional languages, essentially modelling the CLIL pedagogy.
The day started with us learning how to count in French, using rhythm and body movement as a support. From there we revised the concept of fractions in French and demonstrated our understanding by dividing our groups according to the fraction given to us.
The middle part of the day was spent revising the basics of CLIL (please see my two other CLIL-related articles on this website), as well as discussion other best practice in Languages education. For instance, "Flipped classroom" can be used to introduce basics like grammar and vocabulary as homework for students before the actual lesson. This way valuable class time can be used for higher level activities like evaluation and creation. Great free online tools for Flipped Classroom include "Zaption", "Show me", "Educreation" and "Doceri".
The highlight of the workshop was the final hour where French was used to learn interlocking concepts from four different learning areas: Mathematics, Geography, Science and Art. Continuing from the morning session, we were shown how the concept of fractions has been used to create the scale on a map of France. We then used fractions to draw two circles, one inside the other, and drew petals to form a sunflower. Nadine explained the colours we had to use to colour in the petals, at the same time teaching the concepts of primary colours (yellow and red) and secondary colours (orange). Finally, we cut the sunflower, folded in the petals, placed them in a bowl of water and, like magic, watched the petals unfold again in the water. Just like in a real CLIL science class, our curiosity was raised, and we engaged in heated discussion about the scientific phenomenon of capillary action, guided by Nadine's French prompts.
Nadine Fraize is a truly inspirational and effective educator, using the most powerful teaching pedagogies such as CLIL and immersion. As we had her present for Catholic Education earlier in the week, after two days of French immersion, I had totally forgotten the fact that I have never taken any formal French lessons. Just by focusing on familiar words, body language and visuals, I was able follow the French instruction and learn new concepts from other learning areas, feeling very smart indeed. This is the kind of success and motivation we wish for our students too.
To access resources from the workshop:
www.lfeeplatform.net
username: Nadine_MLTAWA2016
password: MLTAWA2016
All enquiries to: [email protected]

The resources include:
– the 2 Powerpoints on CLIL
– the geography cards
– the science experiments Powerpoint (sound + magic flower)

– the Olympic games Powerpoint. Teachers can adapt/translate useful sections into their respective target languages and add activities (with a CLIL focus) relevant to their classes/age groups. Nadine requests that you send her the translated documents and additional activities for sharing.
If you would like to join the Perth CLIL Hub mailing list and/or access a free online CLIL training module with footage from six CLIL classes in five languages (Japanese, Chinese, French, Italian and German), please email me on [email protected]
Further reading:
Coyle, D., Hood, P. and Marsh, D. (2010) "CLIL: Content and Language Integrated Learning" Cambridge: Cambridge University Press.
Dale, L. and Tanner, R. (2012) "CLIL Activities" Cambridge: Cambridge University Press.
Mariel Howard
MLTAWA Secretary