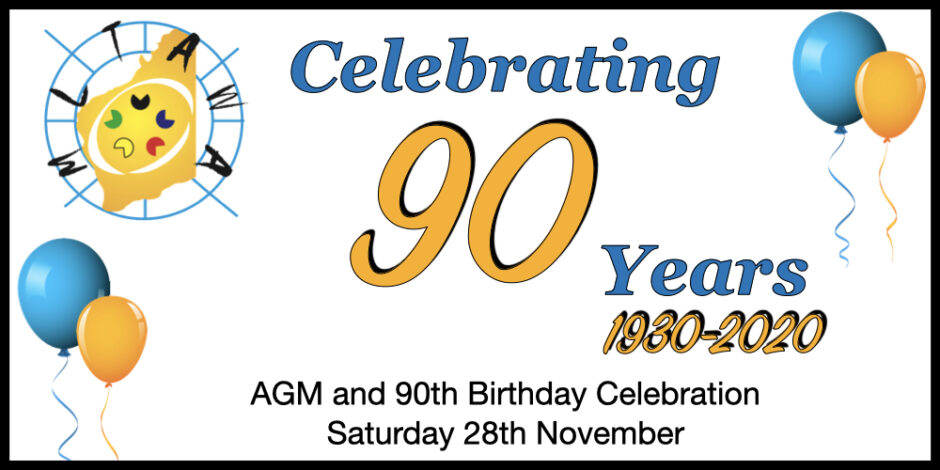 What an amazing celebration we had on Saturday, 28 November at the 90th  Birthday and Awards Presentation event held after the Annual General Meeting at the Esplanade Hotel in Fremantle! Over 100 people attended the anniversary, enjoying a delicious high tea, catching up with friends and colleagues, and reminiscing on past MLTAWA events.
Many thanks to the speakers, the Hon. Sue Ellery, MLC, Minister for Education and Training and Leader of the Government in the Legislative Council, Mr Nathan Harvey, president of the Australian Federation of Modern Language Teachers Associations, and Mr John Kinder, former Chair of European Studies, University of Western Australia. Their knowledge, insights and humour were most appreciated and contributed greatly to the event. We were also fortunate to have Geoff Davis, life-member and former committee member join us. (Seen with Helen and Minister Ellery cutting the cake.)
Another highlight of the event was the presentation of the MLTAWA Awards for 2020. We would like to extend our congratulations to the winners.
The MLTAWA Principal's Award 2020 was awarded to Brother Ridhwan Mayze, principal of Al-Hidayah Islamic School. (In the photo receiving the award from Helen.)
The Hilde Dixon Award 2020 was awarded to Mrs Margo Whittle. We were very fortunate to have had Hilde Dixon's husband, Jim Dixon, and daughter, Katia Dixon, at the ceremony to present the Hilde Dixon Award this year. (Photo shows Katia, Margo and Jim).
We were also pleased to make language teacher, mentor and long-time MLTAWA member, Moya McLauchlan, a Life Member of the association. (In the photo Moya receiving the honor from Helen.)