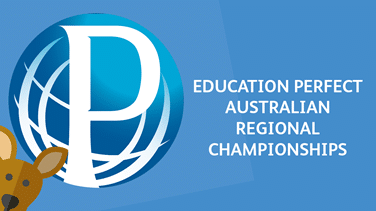 The annual Education Perfect Australian Regional Languages Championships are nearly here! Join other schools from all around WA to compete to be regional champions in Languages.
This is a great chance to re-engage students, and encourage exam revision, while working towards the chance of individual and school glory – and prizes!
A few things to remember with this particular event:
* The Championships run from August 28th to September 4th 2017
* Competition begins and ends at 12pm (noon)
* There is no cost for this event – entry is included for students who already subscribe, but you are welcome to register additional classes/students for this competition at no extra charge
* Certificates are not generated for this competition – we can provide you with a template should you wish to generate your own awards for your students
* Don't forget to bookmark the official information page, which includes a link to your scoreboard.
We are also excited to announce that 2017's competition marks the inaugural inclusion of Noongar as an official language in the Western Australian Championships! Special thanks go to Sharon Gregory, Noongar Language Teacher and author of our beautiful Noongar content, and Kate Reitzenstein, AISWA Languages Consultant and President of the Modern Language Teachers' Association of Western Australia, for their contribution to this exciting project.
Contact [email protected] saying "Tell me more about Noongar!" if you're keen to learn more about this wonderful Australian Language!
Are your students ready to take on the rest of WA? Good luck!
The Education Perfect Team | www.educationperfect.com
NZ +64 (0)3 669 0311 | AUS +61 (0)2 6100 3723 | UK +44 (0)20 8816 8363 | US +1 (202) 657 5224